Originally published in Creative Review on 1st June 2016, you can read the full interview here.
In search of the Beast – designing the cover for Paul Kingsnorth's new novel

Following on from his work on the author's remarkable first novel, The Wake, Mark Ecob talks us through his cover design for Kingsnorth's new book, Beast – a dark, existential tale of one man's subjugation to the wild elements of the moor.

By Mark SinclairMark Sinclair 1st June 2016
After the success of The Wake, Paul Kingsnorth's unusual and brilliant first novel written in a 'shadow-tongue' evocative of 11th-century English, the author's second arrives amid a wave of anticipation this July.
Published by Faber, Beast brings forth a distinctive first-person voice once again: that of Edward Buckmaster, a man who has detached himself from the modern world, in an attempt to reconnect with it.
His aims – not least his body and mind – are subject to the elements, his own gradual starvation and the appearance of a mysterious animal with bright yellow eyes. The man's deterioration amid the moorland of the West Country is vividly portrayed.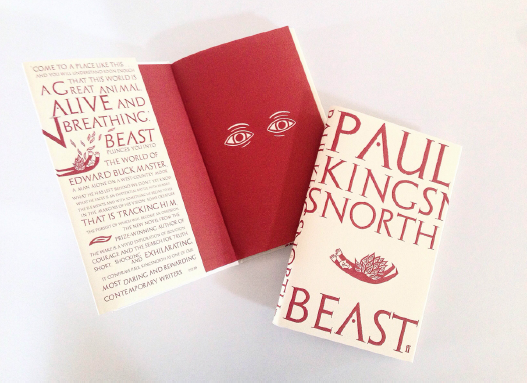 Photo by Niriksha Bharadia

The book's cover is designed by Mark Ecob of Mecob and incorporates a series of folkloric linocut illustrations by Alan Rogerson. As simply constructed as it is, it goes some way to su"est the character's state of mind – and also his environment. Ecob explains that while Beast is "quite a different animal to The Wake", which was crowd-funded and published by Unbound in 2014, long-listed for the Man Booker Prize and won the Bookseller's Book of the Year Award, it made sense to establish "a family resemblance" between the two. "The prize wins also meant Paul's name had to feature strongly," says Ecob. "He'd arrived as a fiction author and this cover needed to show that pedigree".
Briefed by Faber senior designer Luke Bird, Ecob says he was given what was available of Kingsnorth's text at the time (93 pages) and reading this gave him more than enough material to go on. "The writing is just incredible," he says. "The catch was time; the cover had to be included in a sales catalogue in just a few weeks".

The process for The Wake had lent itself to working quickly, Ecob explains, and had come together when the co-founder of Unbound, John Mitchinson, su"ested using an image of a 'green man' figure on the cover. Ecob came across a suitable illustration by Rogerson (below), which was then used on the hardback edition, while a redrawn version with leaves bleeding off the cover became the paperback in 2015.