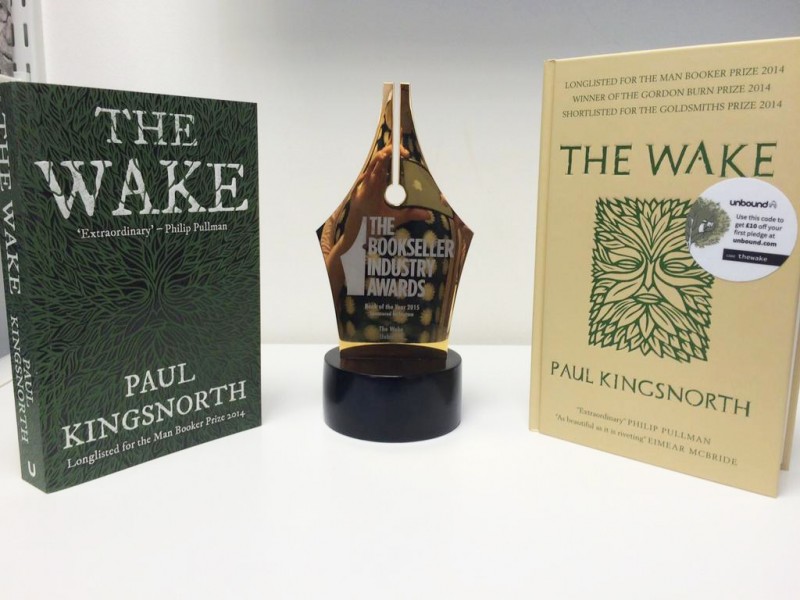 The Wake by Paul Kingsnorth published by Unbound has been crowned 'Book of the Year' at the inaugural 2015 Bookseller Industry Awards.
Set in 1066 and written in the author's own language "Shadow Tongue", it tells the story of a group of guerrilla fighters who take up arms against the Norman invaders in the years after the Battle of Hastings in 1066.
The design was based on an idea by John Mitchinson, Co-founder of Unbound, of a traditional Green Man illustration, found in different cultures across the world in manuscripts, on churches, but quite synonymous with the period of British History in question. I hunted high and low for the right image, a print that could be used in an understated way on a large format printed paper case, and found one in the portfolio of Alan Rogerson. It was the perfect solution, complimented by some stylistically appropriate hand rendered type. We placed in centrally in green on a beige cover, debossed the area around it and printed black on a coptic spine for the subscribers edition, pictured here and printed in China.
Little did we know the success it would have, out of the blue we found out that it had been longlisted for the Man Booker Prize 2014, won the Gordon Burn Prize 2014, longlisted for the Folio Prize 2015, shortlisted for the Goldsmiths Prize 2014 and long listed for the Desmond Elliot Prize 2015!
For the paperback, out now, we didn't stray far from the successful recipe on the hardback. We commissioned Alan to redraw the Green Man, but have the leaves bleeding off of the cover creating a continuous leaf pattern across the cover. In contrast to the hardback, we decided on a black colour palette, unfinished stock, and to reverse a spot uv effect, giving emphasis to the pattern and in turn the type, which weaves in and out of the leaves.
Thanks to Alan for his wonderful work, to Isobel and John at Unbound for believing in the design, and to Lauren Fulbright for producing the paperback so beautifully.
You can read the article from The Bookseller HERE, which cites the design and production value really nicely, and the Telegraph covered it HERE
Watch the original Unbound pitch video HERE
Client: Unbound
Commissioned by Isobel Frankish ad John Mitchinson
Illustration by Alan Rogerson